Leaders in Geosynthetic Solutions
Jaylon's geomembrane division was formed in 1992 to fabricate and install geomembrane liners, with branches in Perth and Brisbane.
As one of Australia's pioneers in the geosynthetic industry, Jaylon has developed expertise in providing turnkey solutions, utilising the full range of available materials. All geosynthetic materials installed by Jaylon are sourced from leading Australian and international manufacturers, ensuring only the highest quality products are used.
Purpose built factories across Australia enable the fabrication of liners on premises. Prefabricated drop-in liners substantially reduce on-site quality control and installation times, resulting in lower costs, and reduced exposure to bad weather and other on-site risks. Jaylon stock a broad range of geosynthetic materials ready for immediate fabrication and delivery.
Since launching its geomembrane business, Jaylon has successfully installed a diverse range of geosynthetic applications, ranging from small farm dams to canal lining and complex floating covers. Some of the geotextiles used for these projects include BGM, HDPE, LLDPE and polypropylene to name a few.
Jaylon has responded to the increasing demand for specialised installation services with fully equipped and well trained field installation crews, who are experienced with HDPE liner installation projects and BGM liner installation projects.  All installation projects are overseen by one of Jaylon's team of experienced supervisors.
Project: Olympic Dam 120ML Liner & Cover
Client: BHP Billiton
Location: Olympic Dam, South Australia
Material: Skaps TN200-2-3.5 Transnet Geocomposite & CSPE geomembrane (1.14mm)
Approximate Size:  28,800m2 (2 layers & floating cover)
Project: Olympic Dam 170ML
Client: BHP Billiton
Location: Olympic Dam, South Australia
Material:  1.5mm HDPE & Skaps TN200-2-3.5 Transnet Geocomposite
Approximate Size:  40,200m2 (2 layers)
Project: Condabri Central Effluent Brine Pond 2
Client:
QGC
Location:
MacLellan Road, Miles, QLD
Approximate Size:
100,500 m²
Materials/Equipment:
1.5mm HDPE Smooth (black and white) & 1.5mm HPDE Single Sided Textured (black and white)
Completion Date:
2015
Project: QGC Kenya East
Client:
Thiess Pty Ltd
Location:
Montrose Road, SW of Chinchilla, QLD
Approximate Size:
166,124 m²
Materials/Equipment:
2.0mm HDPE Smooth, 0.5 & 1.5m geocomposite drain
Completion Date:
2015
Project: Mugga Lane Cell 1
Client:
Dale & Hitchcock Civil
Location:
ACT
Approximate Size:
57,000m2
Materials/Equipment:
GCL, HDPE, Cushion, Drainage & Filer
Completion Date:
2017
Project: Yandi Oxbow
Client:
NRW Pty Ltd
Location:
Newman, WA
Approximate Size:
6,000m2
Materials/Equipment:
1.5mm HDPE Smooth/Smooth
Completion Date:
2016
Project: Waterproofing Five Bridges
Client:
Coleman Rail
Location:
Bendigo Rail Line
Approximate Size:
2,620m2
Materials/Equipment:
Hytec Material, 1.5mm PP
Completion Date:
2016
Project: Corangamite Landfill Cell 13
Client:
Corangamite Shire Council
Location:
Victoria
Approximate Size:
9,000m2 2mm HDPE, 9,000m2 Cushion Geotextile and 6,700m2 Filter Geotextile
Materials/Equipment:
2mm HDPE and Cushion Geotextile
Completion Date:
2015
Project: Cape Preston, Sino Iron Project – TSF Embankment Raise – Stage 2 – Ch 2,500 – 5,100
Client:
BGC Contracting
Location:
Karratha, WA
Approximate Size:
76,000m2 GCL and 76,000m2 2mm smooth/textured LLDPE
Materials/Equipment:
GCL and 2mm smooth/textured LLDPE
Completion Date:
2017
Project: Glenfield Landfill, Cell 2
Client:
EP Civil & Earthmoving
Location:
Butler, SA
Approximate Size:
7,800 m2
Materials/Equipment:
2.0mm HDPE Double Sided Textured/Single Sided Textured
Completion Date:
April 2018
Project: CVLX Ballarat Salesyard
Client:
Walsh Wodonga
Location:
Wodonga, VIC
Approximate Size:
18,000 m2
Materials/Equipment:
2.0mm HDPE Smooth
Completion Date:
April 2018
Project: Northern Gas Pipeline Dam Liners (3 Dams)
Client:
McConnell Dowell
Location:
Between Tennants Creek, NT and Mt Isa, QLD
Approximate Size:
17,000 m2
Materials/Equipment

:
1.5mm HDPE Smooth
Completion Date:
May 2018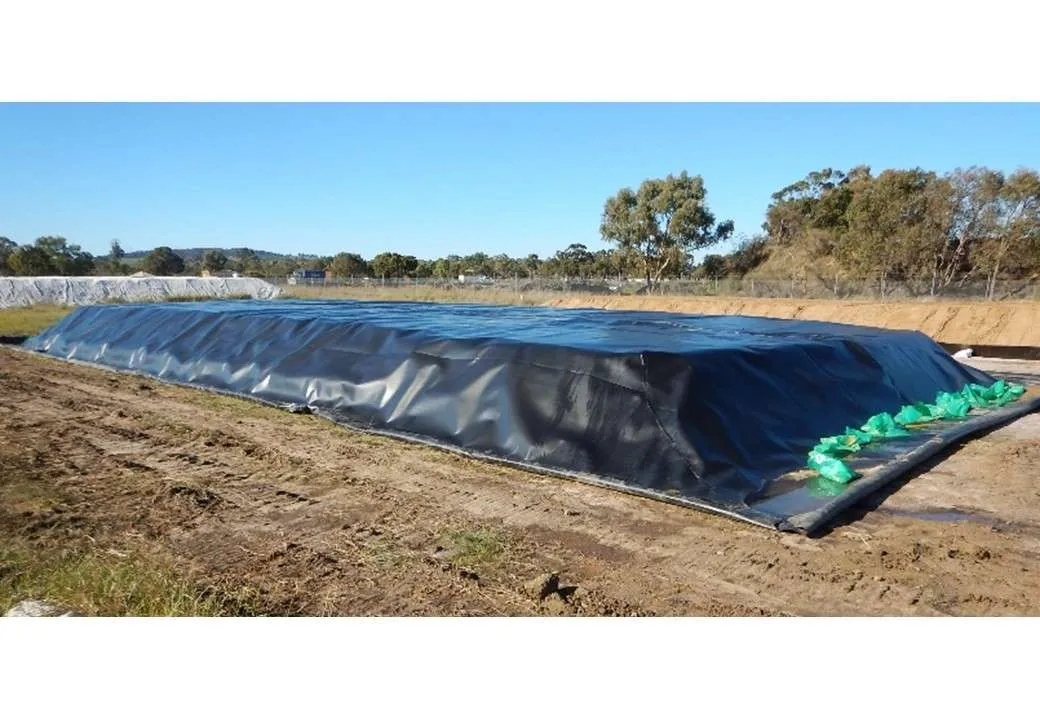 Project: Waste Stock Piles
Client:
Civcon
Location:
RAAF Base Pearce, WA
Approximate Size:
5,200m2
Materials/Equipment:
2.0mm HDPE Smooth/Smooth
Completion Date:
2018
Project: Evaporation Ponds – Kalium Lakes
Client:
Kalium Lakes
Location:
Beyondie Potash Project, WA
Approximate Size:
100,000 m2
Materials/Equipment:
1.0mm HDPE
Completion Date:
2017
Project: Fortescue Phase 2 Water Storage Tank
Client:
Concept Environmental Services
Location:
Mount Sheila, WA
Approximate Size:
65m diameter tank, 3m high (Tank liner & floating cover)
Materials/Equipment:
Enviroliner 6030
Completion Date:
February 2018
Project: Sewage Ponds 1 and 4
Client:
Duratec
Location:
RAAF Base Pearce, WA
Approximate Size:
16,000m2
Materials/Equipment:
1.5mm HDPE
Completion Date:
2018
Project: Kogan Creek IPAC 1
Client:
BMD Constructions
Location:
Brigalow, QLD
Approximate Size:
122,000m2
Materials/Equipment:
110,000m2 of Solmax 1.5mm white LLDPE and 12,000m2 of Coletanche ES4
Completion Date:
2019
Project: Urraween Reservoir – Roof Liner Replacement (Floating Cover)
Client: Fraser Coast Regional Council
Location: Urraween, Queensland
Material: Erez ER 1000 PW-M & 2.0mm HDPE smooth
Approximate Size: 11,000 m2
Date Completed: November 2020
Over 70 Years' Experience in Coated Textiles
Tailored, High Quality Solutions